NEWINGTON, N.H. – SIG SAUER, Inc. is proud to announce the delivery of the 100,000th M17 and M18 for the Modular Handgun System program to the U.S. Military, ahead of schedule, and surpassing the performance standards and requirements since the official contract award in January 2017.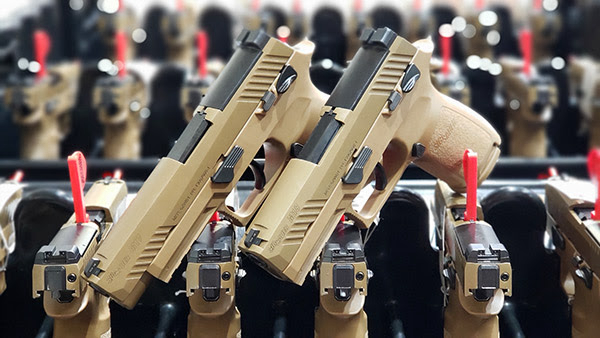 "In the month of October SIG SAUER exceeded our manufacturing requirements by thirty percent and delivered a record-setting 12,100 handguns to the U.S. Military to achieve this historic milestone for SIG SAUER and the MHS program," began Ron Cohen, President & CEO, SIG SAUER, Inc. "With the strict accuracy and acceptance specifications that the M17 and M18 are continuously exceeding, it's clear that the success of this program can be directly attributed to the reliability, durability, and accuracy of the handgun, which has resulted in the high demand for both the M17 and M18 from every branch of the U.S. Military."

The M17 and M18 handguns are a 9mm, striker-fired, P320-based handgun platform, featuring coyote-tan PVD coated stainless steel slides with black controls and utilize both 17-round and 21-round magazines. The handguns are equipped with SIGLITE front night sights, removable night sight rear plates, and manual safeties. To date SIG SAUER has delivered M17 and M18 handguns to all branches of the U.S. Military and the U.S. Coast Guard.

"From the very beginning the MHS program has been a true partnership between SIG SAUER and the U.S. Army which has resulted in the overwhelming success of the program, and ensuring that the M17 and M18 handguns are entering service, and in the field with our military," concluded Cohen.
About SIG SAUER, Inc.
SIG SAUER, Inc. is a leading provider and manufacturer of firearms, electro-optics, ammunition, airguns, suppressors, and training. For over 150 years SIG SAUER, Inc. has evolved, and thrived, by blending American ingenuity, German engineering, and Swiss precision. Today, SIG SAUER is synonymous with industry-leading quality and innovation which has made it the brand of choice amongst the U.S. Military, the global defense community, law enforcement, competitive shooters, hunters, and responsible citizens. Additionally, SIG SAUER is the premier provider of elite firearms instruction and tactical training at the SIG SAUER Academy. Headquartered in Newington, New Hampshire, SIG SAUER has almost 2,000 employees across eight locations. For more information about the company and product line visit: sigsauer.com.